FrontlineSMS allows you to send and receive text messages over a mobile network.
Browser-based and built to run on Windows, Mac and Linux, FrontlineSMS can send text messages via phone, modem or online SMS aggregator.
Using Frontline SMS, you can deliver announcements, conduct polls and automate replies to incoming SMS. You can also visualise incoming data, helping you to quickly understand the results.
FrontlineSMS integrates with Clickatell and IntelliSMS.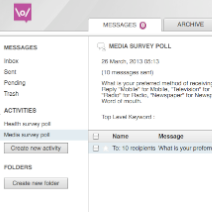 Conducting surveys and polls
Mobilising for demonstrations
Visualising voting choices
Designed for NGO use
Has good user support
Some limitations in message send rate when using USB modem (8 per minute)
Technical skills required for some database or connection issues
Windows, Mac OSX, compatible mobile device
FOSS
Moderate