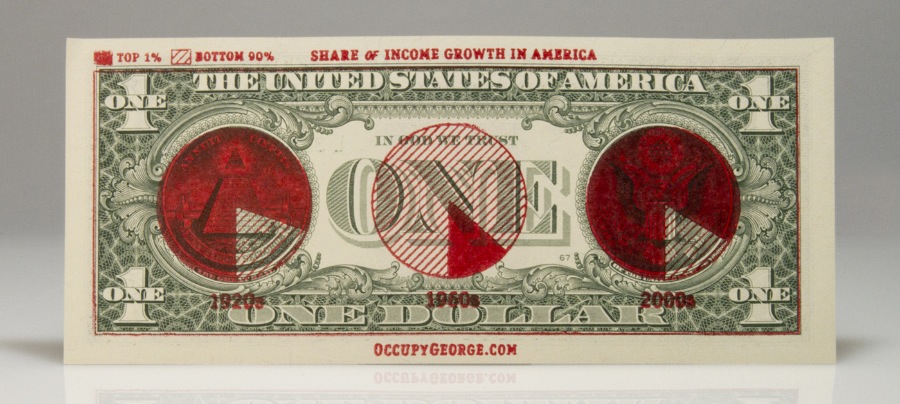 On September 17, 2011, a group of protesters, led by the culture jamming magazine Adbusters, camped out in Zuccotti Park at the centre of New York's financial district. They called themselves Occupy Wall Street. Within a few weeks similar camps had sprung up across the USA, drawing in thousands of participants. With the slogan "We are the 99%", their complaint was against unfair wealth distribution and corporate power in the country. Soon the movement spread to Europe too.
The idea of occupying space extended beyond the physical. We Are the 99% blogged photos of people holding signs explaining how the US' financial situation affected them; Free Art and Technology urged people to 'Occupy the Internet' and offered animated gifs to add to your website The Occupy Poster Project provided screen printed posters that protesters could download and stick around.
Occupy George – also known as Ivan Cash and Andy Dao – wanted to join the movement and help communicate the facts about economic inequality to the country. Inspired by the idea of using banknotes to release ideas and messages into circulation, they exploited a loophole in US legislation that permits marking money, as long as it is not entirely defaced. They created simple infographic stamps visualising data on the wealth distribution in the country.
Setting out to get as many bills as possible circulating in California, the team stamped dollar bills and did exchanges for fresh ones at the Occupy Oakland camp. To extend their reach even further, they invited people to download the template from their website to print at home and spread online. Read more about Occupy George over at Tactical Tech's 10 tactics remixed.
Print-based media: far from obsolete
Although print-based media is considered the predecessor of digital media, it should not be seen as less effective or less relevant. Its simplicity and immediacy -- the qualities that might make you post notices for a lost pet on posts around the neighbourhood rather than on the internet -- keep it a valuable tool even today.
The potential of print-based media to affect change in communities cut off from technology is self-evident; but even within communities with abundant access to technology, it can be very effective as either a complement or an alternative to a digital media campaign. Advances in software have made the production and distribution of print-based media (using digital means) more accessible than ever before to activists on a tight budget.
Why use it?
The printed word has not lost its ability to motivate and spur to action – but its power gets diluted in the sea of words online. Using print-based media can be a chance to take your campaign back to the street. Print communication can radically amplify your message, often for very little cost and effort.
A printed t-shirt worn in the right place at the right time, or eye-catching stickers, can make a bold statement. A monthly newsletter, created with your key audiences in mind, can be an excellent way to invite the participation of your community at a grassroots level. Other formats include posters, flyers, magazines, stickers and brochures for physical distribution.
How can I use it in my campaign?
Creating and distributing print-based media requires a variety of skills that go beyond simply putting words to paper. There are several stages to consider:
Co-ordination and planning
Budgeting (how many copies, materials, distribution)
Layout and design (see our featured tool, Scribus)
Writing & editing  (see our featured tool, LibreOffice)
Image sourcing, creation and/or manipulation (see our featured tool, GIMP)
Marketing and networking
In the first planning stages, you will want to consider the following factors:
Audience – social group, political slant, geographical location, age
Style – language, tone, level of formality 
Cost – sustainability, printing costs, paper and storage costs
Distribution – methods, geographical spread, number of copies
Contributors – presence of active and competent contributors, training needs
These will greatly influence your content creation process and, ultimately, your choice of format.
Choosing the right format is also about making sure your project links clearly into your overall communications strategy. Print-based media, in most cases, results in an output that is not modifiable like a website, so careful planning is essential to avoid costly mistakes.
When deciding which format to choose, think about your goals, capacity and audience. Are you trying to get people to act fast on an issue, or do you have a message that makes sense on its own and will not date quickly? Simple messages can go onto smaller, one-off formats like posters, stickers and t-shirts, or into booklets or pamphlets, which can include links to more frequent updates on your website. Posters or stickers can be put up by volunteers, and fliers can be handed out at demonstrations.
If you want to engage people over the longer term by giving them an in-depth understanding of the issues involved in your cause, or if your messages are evolving all the time and are related to other developments, then a newsletter or magazine is best.
To highlight a particular subject you could also issue a one-off publication such as a briefing paper or communiqué – but don't tell your audience it will form part of a series unless you are committed to producing further issues!
A longer text might need to be published as a report, or even as a book. If your budget is smaller, it could become an e-book for downloading. Remember that anything published online can be updated more regularly, cheaply and easily.
Using a combination of formats is the best way to reach all your goals and audiences in the short and long term.  
 Here is a breakdown of the advantages and drawbacks of using different print media formats: 
Format

Pros

Cons

Notes

Newsletters, magazines, zines

Provide more in-depth coverage

Opportunity for contributions from community; great community-builder

Can encourage long-term engagement

Online distribution possible

Can be costly in the long run

Requires skills and a dedicated team

Time-intensive

 

These formats need to be sustained over time

Length is crucial: enough information to satisfy and make the reader want to come back, without overwhelming them

Make sure the content is relevant and timely

T-shirts or scarves, Canvas bags

Fast, simple, durable, useful, colourful

Costly

Not in-depth

Can't be updated or easily shared

A simple, punchy message is essential, with a design that complements the message.

One colour is fine, but ensure high contrast.

Stickers

Fast, simple, catchy, inexpensive, street-level

Not in-depth

Potential legal and security issues for people distributing

Can't be updated

As above

Posters

Fast, simple, colourful, catchy, street-level high impact

Online distribution possible

Can be costly depending on print quality and size

Potential legal and security issues for people distributing

Can't be updated

You need a good concept and possibly a designer

Guerrilla postering (at any size) in the right places can have a big impact. Remember to include a link to your website.

Brochures, pamphlets, fact- or information-sheets

Quick and easy, more in-depth, relatively inexpensive

Distribution

Clear, concise writing and layout are essential. Demands research and fact-checking

Books, booklets, reports

Very in-depth

Can be self-funded through sales

Online distribution possible

Expensive to print and distribute

Sales systems required

Time-intensive

Carefully weigh up whether you want to give your book away or sell it; and whether you want to make an e-book or a printed book.
Case studies

In 2009, to generate social dialogue among Saudi citizens on the ban on women driving, a Saudi artist and graphic designer living in the US created a campaign called 'We the Women'. Areej Khan designed a set of 'declaration bubble' stickers and encouraged people to print them out, fill in their thoughts, and then distribute them in public spaces – including on cars. Supporters were also encouraged to photograph their personalised stickers and upload them to the project's Flickr set or Facebook page, or to email them to Khan anonymously.
Khaled Jarrar, a Palestinian artist, developed a 'State of Palestine' stamp that he used to stamp the passports of tourists in Gaza, to raise awareness about the fact that the territory still does not have the right to erect its own border controls.
In India, The Zero Rupee Note is a campaign tool that Vijay Anand created through his organisation 5th Pillar. The Zero Rupee Note is a visual aid to mobilise people to say 'no' to corrupt officials and to expose where and when bribes are demanded. Its design is based on the Indian 50 Rupee note, but printed on the note in English and Tamil is the message: "Eliminate corruption at all levels" and "I promise to neither accept nor give a bribe."
In Switzerland, the Dirty Hands collective put out a printable mini-minaret in protest of the amendmend passed there in 2009, forbidding the construction of minarets.. Users could download a PDF, print the mini-minaret onto cardboard, glue it together and display it on balconies or in windows to protest the absurdity of the law.
@Verdade is an independent newspaper, launched in 2008 in Mozambique, offering balanced news and targeting those living in poverty in informal urban settlements. The paper rapidly became part of a larger popular movement that would galvanise a population once limited to state radio and television outlets. Offered entirely for free (one of the grounding principles of the newspaper), the initiative manages to stay sustainable through advertising revenue and other innovative means such as hiring out delivery vehicles. Although the paper has a parallel online version, making the printed newspaper the focus was essential in a country where less than 10 percent of the population has access to electricity. @Verdade is an excellent illustration of just how relevant print-based media can still be in this so-called digital age.
Further resources
LibreOffice is an excellent all-purpose software suite that comes with a full-featured, free and open source word processing program. Other tools like Booki, Booktype and Etherpad are similar, but bring a more collaborative aspect to content creation online, like Google Docs.
A/Z Lab's Café Society Project has created Trails, an excellent tool for quickly creating a PDF booklet out of web-based content. It is available as a Firefox extension.